Housed in an old historical palace, once the residence of Admiral Vettor Pisani and other celebrated Venetian families, the
Antico Martini
was first established in 1720 under the name of Caffè San Fantin. After the opening of the Fenice Opera House in 1792, it became the favourite meeting place of artists, intellectuals, singers and conductors who patronized the coffee-house for their after-theatre revelries. Afterwards the name changed to
"Martini"
, from the surname of the owner who ran it from 1863 to 1884, and since 1921 it has belonged to the Baldi family, now at its third generation, who has launched it as a deluxe restaurant, the favourite not only of dedicated gourmets, but also of famous names in the jet-set and exponents of the world of politics, art and Venetian and international culture.
Here you will find some of the specialities that made the

Antico Martini

famous. They are prepared with the greatest care and with the best ingredients the market has to offer. The season's early vegetables are given pride of place, and that is why the specialities change with the changing of the season. The fresh pasta, the sweets, the small pastries, the ice-cream and the parfaits are all home-made.

We even smoke our own salmons.
| | | |
| --- | --- | --- |
| | The menu offers traditional fare from Venetian cooking like spider-crab, squills, sea-scallops, seafood salad, tiny gray shrimps with "polenta", bean soup, clam soup with white pepper, risotto (of fish & seafood, of vegetables in season etc.), spaghetti with clams, fish from Adriatic sea, broiled or boiled (lobster, scampi, sole, reef gilthead, bass, angler-fish, john dory, turbot), calf's | |
liver venetian-style, guinea-fawl in "peverada" sauce, tiramisù to more creative dishes like rolled smoked salmon with caviar, lobster & mantis shrimp salad with saffron sauce, tuna-fish carpaccio, sauteed scallops with basil, cream of carrot soup, cream of corn soup with chives, leek & angler-fish soup, black thin noodles with sea crab & zucchini, "ricotta" dumplings with asparagus, puffed pastry filled with chopped king prawns and red chicory cream, pasta with "bruscandoli" & scampi, noodles with squills & saffron, thin noodles with local lobster, large noodles with scampi & sweet peppers, risotto with bass & arugola, vegetarian ravioli with brie and walnuts, braised angler-fish with pink pepper & dill, bass with wild fennel sauce, broiled lamb chops with fines herbes, lamb steak with balsamic vinegar & "polenta", veal chop "Martini", breast of duck with black truffles, sauteed veal with spring artichokes and curry, hot apple pie with pistachio sauce, frozen soufflé with raspberry sauce, hot wild berries with moscato wine and vanilla ice cream, little hot chocolate cake with rum sauce.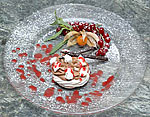 In the vast panorama of Italian and world-wide wine production we have selected for you the great wines of the best vintage years and we have stored them to mature in our cellars.
Yet less-known labels can be just as intriguing and we are constantly on the lookout for wines that offer excellent value for money.
You will be able to choose from among over 350 wines from all regions of Italy, France, the U.S. and the most important wine-producing areas in the world.
S. Marco 1983 (Campo San Fantin, close to La Fenice Theatre) - 30124 Venice
Tel. + 39 041 5237027 / 041 5224121 - Fax + 39 041 5289857
Open from noon to 2.30 p.m. and from 7 p.m. to 11.45 p.m..
After- theatre dinners.
Closed on Tuesdays (all day) and on Wednesdays luncheons.
All major credit cards are accepted.
CiaoVenezia
Via della Centa, 30
33070 Polcenigo (PN) Italy
Fax +39 0434 749634
e-mail:
info@ciaovenezia.com