The aisles of the Basilica are enriched with impressive monuments and valuable paintings and sculptures.
Passed the doorway, on the left we see the Chapel of the Crucifix presenting a funeral monument to a famous benefactor of the friars and below the urn an interesting painting of St. John the Evangelist by the Venetian artist Angelo Venturini (18th century).
The masterpiece of the chapel is the altar designed by Baldassarre Longhena and executed by the Flemish Giusto Le Court in 1672.
Two black marble columns underline the vertical space of the altar, whose central part is occupied by a crucifix in marble surrounded by angels. The work is remarkable as it speaks to the faithful not of sadness and anguish but of hope in the risen Christ.
From 1436 the chapel was officiated by the School of the Florenti- nes, and the wooden statue of St. John the Baptist by Donatello was formerly placed on the altar. Down the steps of the chapel is worth seeing a fine holy water stoup with a bronze statuette by the Veronese artist Girolamo Campagna.
Past the chapel, we face the monument of the greatest italian sculptor of the 18th century: Antonio Canova.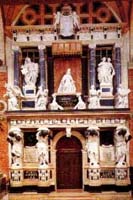 Completely different from Canova's mausoleum is the funeral monument of Doge Giovanni Pesaro, an enormous complex enclosing the entire side entrance to the church and repre- senting a classic example of Venetian Baroque art. Design and model are by Baldassarre Longhena and the gigantic marble statues are works of Melchior Barthel from Dresden.
Our eyes are immediately caught by the impressive sight of the four gigantic moors in polychrome marble standing on pedestals adorned with festoons, portrayed as bearing the whole monument on their shoulders. They simply look alive! Two bronze skeletons by Bernardo Falcone have been placed between the strong moors. They hold a white marble drap engraved with long inscriptions in golden lettering.
The second order of the complex presents four columns in black marble supporting an architrave with the Pesaro coat of arms. The enthroned statue of Doge Pesaro stands in the centre, beneath a rich canopy of red marble in the style of a brocade.

On either side between the columns are the allegories of Religion and Valour on the left and Concord and Justice on the right, while in the foreground of the cornice are displayed six other allegoric figures: a genie, three women and two monsters. The large golden inscriptions are typical and mean: " He lived 70 years ", " He died in 1659 " and " He came to life here again in 1669 ".
The holy water stoup on the right of the monument displays a beautiful statuette of the Virgin dated 17th century, which was brought from the hermitage of Monte Rua in the Euganean Hills ( near Padua ).
On the left aisle within a Renaissance altar, work by the Lombardo brothers, stands resplendent the Madonna of Ca' Pesaro, another masterpiece of Titian and one of the milestones of Venetian painting.