The exterior of the basilica

The Friars Minor of the Order of San Francesco arrived in Venice around 1225. At the beginning they were given hospitality in some churches and monasteries in town and they lived on charity and humble jobs. Some time afterwards, as they rose in number, they were granted " an empty piece of land behind Campo San Stin " by Doge Jacopo Tiepolo. The land was known as " lago Badoer" for the presence of a pool, and there the friars soon started building a church and a friary in honour of the Holy Virgin Mary.

Around 1340, due to the increased importance of the Order of the Friars Minor and thanks to generous donations made by some noble Venetian families, works started on the present Basilica, which was finished in 1445, consecrated in 1492 and dedicated to the Assumption of our Lady: Santa Maria Gloriosa dei Frari.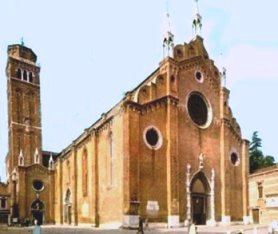 The Basilica was built in a Gothic style that we may define " Franciscan ", since it emphasizes the harmony of the lines without over indulging in spires, pinnacles and ornate arches. Beauty is much increased by the warmth of the brick walls on the exterior set off by lines of white Istrian stone.

The name of the architect is unknown, but he might have been one of the friars from the friary nearby. We know for sure that Scipione Bon was vestryman and overseer of the last phase of the work.

It is 102 metres long and 32 metres wide . The lenght of the transept is 48 metres and the height of both the nave and the transept is 28 metres.

The church stands on a large square known as Campo dei Frari. " Campo " ( field ) is a Venetian toponymy to indicate that this area was originally grass covered, like the many other campi and campielli of the city.
In front of the church runs the Rio dei Frari, a channel crossed by a bridge built in 1428 by the friars.
In the square, around the Basilica you can see the ancient buildings of the Schools, which were once brotherhood centres of religious and cultural life, and the entrance to the State Archives, formerly the great monastery of the Frari.

CiaoVenezia
Via della Centa, 30
33070 Polcenigo (PN) Italy
Fax +39 0434 749634
e-mail:
info@ciaovenezia.com