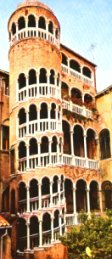 Palazzo Contarini del Bovolo is a Gothic construction in Calle
della Vida. Its name rise from the existence, in the campiello (small square of Venice) at the back, of a very fine and original winding staircase. It shows many arcades and a parapet with little columns that follow the salient line of the staircase.

One of the most fascinating architectonic jewels in the heart of Venice, the Scala Contarini del Bovolo, hidden at the interior of a small courtyard very close to Campo Manin, date back to 1499. Architectural elements of the first Renaissance merge to the building techniques Gothic-Byzantine, producing a harmony of forms, with a typical Venetian character, in a monument that is unique in its type.

From the dome of the belvedere it is possible to admire a splendid and unusual panorama of Venice: the roofs, the bell towers, the domes of Saint Mark.

It is, no doubt, a privileged observation point over the city.